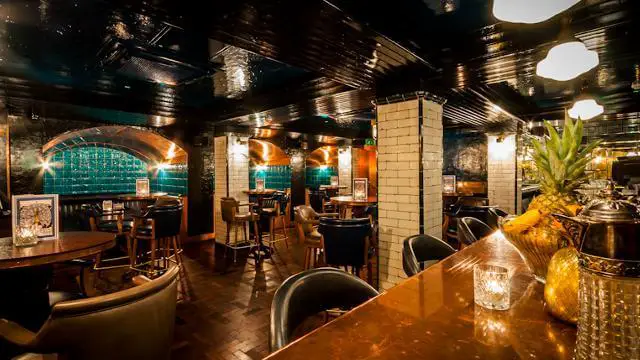 If you're considering organising a Stag Do in London, chances are one of your biggest priorities is to avoid the obvious, cheesy tourist-traps and seek out something a bit different to keep the lads amused. This can involve a fair bit of planning, but fortunately for you we've decided to take on all the hard work ourselves. 'Cos we're wonderful like that.
There are so many amazing and unusual pubs in London – here are our pick of the bunch.
Hip Hop Karaoke @ The Social (Little Portland St)
That's right bitches, you heard me right – it's hip hop karaoke. One of the latest music crazes to sweep the nation, HHK gives you the chance to step into the shoes of Ol' Dirty Bastard, Jay-Z and the Fresh Prince. The Social in West London hosts HHK every Thursday night, so… erm… git yo asses down there (etc).
Mayor of Scaredy Cat Town (Spitalfields)
The fantastically-named Mayor of Scaredy Cat Town is a 'secret' speakeasy hidden away under the new Breakfast Club in Spitalfields. The decor's quirky, the cocktails are retro and you can only come in if some fella named Henri says you can. Splendid stuff.
The American Bar @ The Stafford (Mayfair)
If you're looking for an old world boys' club kind of vibe (and you're a fan of 1930s American memorabilia) then this could be the place for you. It's the kind of joint you'd smoke cigars in, if you were still allowed to do that. Very pricey, but well worth a visit. One word of warning though – don't turn up in flip-flops or shorts, or they'll chuck you out.
Piāno (Kensington)
This place is extremely classy and sophisticated – we know that because there's a weird symbol over the 'ā'. If you're of the shouting, farting, boob-squeezing Stag party variety then this may not be the place for you, but fans of New York's Greenwich Village piano bar scene will be like kids in a sweet shop.
Barts (Chelsea)
Another speakeasy, Barts conjures up the spirit of prohibition-era boozing in the heart of Chelsea. Known locally as 'London's worst-kept secret', again it's not cheap but the cocktails are extremely creative – if you're feeling chummy you can crowd around one of their shared cocktails (the Mad Hatter, for instance, serves six people).
Evans & Peel Detective Agency (Earls Court)
This secretive West London boozer is accessed by a hidden entrance leading down to a candlelit drinking den where they serve booze in paper bags. It's all a bit Bugsy Malone, although as far as we're aware no cream pies are involved. They have a no-standing policy (this is presumably waived for when you have to pee) and serve Meantime London Ale through an antique radiator. Marvellous.
Absinthe Bar @ Brompton Bar & Grill (Brompton Road)
Think your Stag party can take the heat? Probably not a good idea to make this the first stop on your pub crawl, lest things end before they've begun, but if you're a bunch of fearless drinkers then it doesn't come much stronger than absinthe. It also makes you crazy and gives you tuberculosis, apparently, but we've all had worse hangovers than that, right?
You're organising a Stag Do in London. You don't want to end up in the Hard Rock Cafe with a bunch of irritating tourists and, what's more, you're wary of breaking the bank. Most of all, you're desperate to give the stags a weekend to remember. Bit daunting?
Chill your boots, chaps, because we've been scouring London for the quirkiest, coolest and most unusual joints in town. And here's Part Two of our guide to to the most unusual pubs in London.
(Take your lads to one or two of these drinking holes, and you'll be the toast of the party.)
Bounce Ping Pong Bar (Holborn)
I know what you're thinking – why have I spent so much of my life drinking pints without simultaneously playing table-tennis? Yeah, we don't know either. This central London bar serves up classic British cocktails and wood-fired pizzas alongside SEVENTEEN ping-pong tables. It's a little noisy, but then you'd expect that. And the pizza itself actually ain't half-bad. Very amenable to large groups.
Callooh Callay (Shoreditch)
If a chandelier hanging from a crane sounds like your kind of vibe, we'll see you down the Callooh Callay. Known by many to be the Shoreditch cocktail bar, Callooh is hidden away down a cobbled East London street and its truly quirky decor (not the 'pretend quirky' you get in chain pubs) is the perfect backdrop for knocking back a crisp Tequila Slushy (yes, you read that right).
Doodle Bar (Battersea)
We've all been there. You're a few pints in, the chat's running dry, and you're overcome by the desire to draw a big cartoon willy on the wall. Problem is, in most pubs that kind of tomfoolery will get you chucked out… but not in Doodle Bar. The Doodle is so-called because you're actively encouraged to draw on the walls, the furniture and even the waiters. Although, despite my opening comment, overly-pornographic imagery may eventually get you chucked out even here. So keep it clean, Picasso.
The Thirsty Bear (Waterloo)
This might well be the most dangerous situation imaginable on a Stag Do, but at Waterloo's famous Thirsty Bear pub YOU GET TO PULL YOUR OWN PINTS. I know. Why am I even wasting my time writing this when I could be down at the Bear getting all D-I-Y on everyone's asses? Avoid London's inevitable 25-minute queues by Being The Barman from the comfort of your seat. What's more, you can also order bottled beers, wine, cocktails and food without ever leaving the table, using the rather nifty electronic iPad ordering system. It's a gadget-lover's paradise. Music can be 'ordered' too, via the 20p-a-time online jukebox. Man, if the tables only had their own in-built urinals, we'd essentially be looking at Paradise.
White Rabbit (Stoke Newington)
If there's one thing that can perk up the atmosphere in a bog-standard boozer, it's the presence of naked chicks. Or even just one naked chick. And hey, I'm not talking about a strip joint here – I'm talking about classy birds, my friends. Because, rather unusually, Stoke Newington's White Rabbit pub offers its own weekly life drawing classes, something which, at the very least, might save the groom himself having to get naked. Other than that there's an impressively comprehensive drinks list and pretty decent food, too.