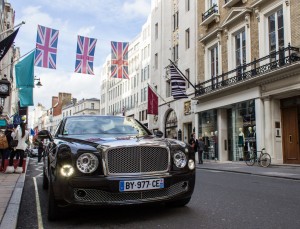 West London – is this gleaming quadrant of our fair capital really just a hot-bed of slick-haired millionaire playboys, creepy oil magnates and posh, pashmina-wrapped princesses with inexplicably husky voices? Does it have anything to offer for the marauding Stag Party?
The answer, fortunately, is yes. A Stag Weekend in this part of town has plenty going for it -and here are some ideas to get you started…
DRINKING
The Porterhouse in Covent Garden is a cracking joint, multi-levelled and always buzzing – plus they brew their own 9% oyster stout, which is guaranteed to get the lads going. If you're looking to start the night off at a more traditional kind of boozer, South Ken's Anglesea Arms is well worth a visit as is – less centrally – The Dove in Hammersmith, which overlooks the River Thames.
EATING
The newest and hippest burger joint on the scene is Patty & Bun, just round the corner from Bond Street tube. The burgers are gooey, old-school and criminally delicious. Also, if you've never had a Chipotle burrito before, then you are in for a treat. A New York food chain that recently landed in the UK, Chipotles are still relatively hard to come by in this country but, luckily for you, almost all of them are in West London.
CLUBBING
There are two types of club in West London – the kind you see on Made In Chelsea, and the kind you don't. The kind you see on Made In Chelsea can certainly be fun, provided you don't mind listening to a trustafarian called Marmaduke regaling his exclusively blonde friends about tripping his nuts off in Nepal. Embargo 69 and JuJu London are both venues of this ilk. Then there's the trendier, more enigmatic hot-spots – of which there are plenty in the West – such as Westbourne Studios or the Notting Hill Arts Club.
LAUGHING
If you're in the mood for a giggle, West London has a few comedy club gems scattered around its parts. Headliners in Turnham Green proves that Chiswick isn't only about leafy streets, yummy mummies and depressingly unaffordable house prices – it also does fantastic stand-up comedy (in a converted warehouse, no less). Also, at a place called Bar FM, Shepherd's Bush hosts a comedy night called Knock2Bag which offers up everything from sketch troupes and character acts to established names and rising comedy stars.
SPORTING
Chelsea are of course the kings of West London sport, but they're also one of the most hated clubs in Britain, so if you aren't already fans than proximity to Stamford Bridge is unlikely to be much use to you as a spectator. However, if you're in Chelsea and fancy a kickabout, London-based company 5aside has a venue there, as well as in nearby Fulham. Also, from this part of town you've got easy access via the M4 to Ascot and Windsor Racecourses.
SLEEPING
You might be amused to hear that one night's stay in the Royal Suite at The Lanesborough, Hyde Park Corner, will cost you a cool £8,000. And I bet you still have to pay for the shitting mini-bar. However, since the hotel rooms you inhabit on your Stag Weekend are likely to end up covered in pants and empty Wotsit packets anyway, it's probably best to aim a little lower. Premier Inn has hotels in Kensington, Hammersmith and, if you're desperate, Ealing.