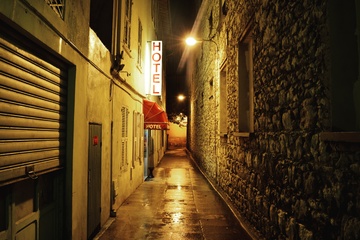 Stag Dos in the capital needn't be staid and predictable. Treat the lads to something a bit different on the accommodation front with one of these quirky places to stay in London.
The Hoxton Hotel (Hoxton)
If your Stag Party is more East-London-Cool than West-London-Posh, the Hoxton Hotel could be the ideal place to bed down. Trendy, quintessentially urban and in possession of several faux moose heads, the Hoxton also boasts flatscreen TVs, rain power-showers and in-room Wi-fi. Look out for their famous £1-a-room sales, too… doesn't get much cheaper than that.
Andaz (Liverpool Street)
Super minimalist and ultra-sleek, Andaz boasts a fantastic Liverpool Street location, tip-top customer service and eco-friendly baths (yeah, we're not entirely sure what that entails either). All the rooms have healthy organic mini bars too, which may not seem like the highest priority on a Stag Weekend but you'd be surprised how well a probiotic fig yoghurt goes down the morning after a massive whisky bender.
40 Winks (Stepney Green)
This one would only really work if you were organising an exceptionally small Stag Do, or if the rest of your party didn't mind checking in at the Premier Inn down the road – because 40 Winks takes 'boutique' to a whole new level by offering just two bedrooms. However, if your Stag is particularly style-conscious, he'll love the quirky, eccentrically English decor of this tiny townhouse hotel. Pure decadence, and something of a celeb-magnet too.
The Zetter (Clerkenwell)
Formerly a Victorian warehouse, The Zetter is ultra modern, state-of-the-art and eco-friendly, as well as being conveniently located in the trendy environs of East London's Clerkenwell district. Every floor has its own vending machine, perfect for when you're crashing in late at night and urgently require a Snickers (although it should be added that these vending machines dispense everything from champagne to disposable cameras, so you can really express yourself in there).
The Pavilion Rock and Roll Hotel (Edgware Road)
Bring a bit of rock and roll glamour to your Stag Do with a stay in the Pavilion – a funky, laid-back establishment just a stone's throw from Hyde Park. All the rooms are wackily themed, from the Honky Tonk Afro Room to Better Red Than Dead, making the Pavilion an ideal alternative to the stuffy, everyday hotels you get in most parts of the city. Indeed, the Pavilion's quirky decadence has made it a haven for supermodels, famous actors and rockstars, so for those of you who only stay in hotels that have previously been frequented by the So Solid Crew, your time has very much come.
Church Street Hotel (Camberwell)
While it's a bit of a distance from the nearest tube, the Church Street Hotel makes up for any geographical shortcomings by being tremendously, unashamedly kitsch and exuberant. It's got a kind of 'scruffy Latino' vibe, complemented by a restaurant-cum-tapas bar serving up Church Street's famous hot pepper sauce (the precise recipe of which is a closely-guarded secret). Camberwell is also currently considered to be one of the up-and-coming parts of London, which means you'll want to get in there quick and see what it has to offer before it becomes passé in, oh… I'd say some time in the next ten to fifteen minutes.
We've just looked at a bunch of trendy, quirky places to stay in London for those keen to make their Stag Do stand out from the rest. Let's follow up now with another batch of hotels in the capital – across a range of budgets – which offer something a wee bit different from the standard 'two free biscuits and an extra pillow' fayre…
Stylotel (Westminster)
You can't sniff at a hotel located just five minutes on foot from Hyde Park, especially when it also boasts state-of-the-art facilities and ultra-modern rooms at affordable prices. Walk-in shower? Check. Satellite TV? Check. Oh, and the rooms are soundproofed too, just in case, erm… well, just in case you like to indulge in a little guitar soloing late at night (I know I do).
Tommy Miah's Raj Hotel (Islington)
Stag Dos and curry… a match made in heaven? Exactly. But what if you could take things one step further and actually STAY in a curry house? Yeah, I thought so – you're salivating already. Tommy Miah's Raj Hotel in Islington may not be the swankiest place in the land, but it is above a delicious Indian restaurant and so worth it alone for the late night noshing potential. Anyone who's ever eaten so much curry they can hardly walk will appreciate the proximity here between table and bed.
Clink 78 (King's Cross)
A mate of mine recently went a bit wild on a Stag Do and ended up spending the night in jail. He may have an absolutely cracking pub story now, but I'm not sure it was much fun at the time – which makes this hotel the next best thing for adrenalin junkies hankering after an 'authentic' prison experience. North London's Clink 78 is converted from an old courthouse and modelled on a prison, with self-catering kitchens, two courtrooms and seven prison cells. You can also grab a dorm-room if you fancy the communal vibe. Plus it's dirt-cheap, which leaves your wallet nice and full for causing trouble in the real world.
The Fox & Anchor (Smithfield)
Go old school and book the lads into Smithfield's Fox & Anchor, a fantastically well-preserved, two hundred year-old London hostelry that's bursting with Victorian charm. The venue itself serves up traditional pub grub of the steak-and-oyster pie variety, alongside an excellent array of real ales. Word of warning, though – there's only four rooms, so you'll need to book early.
Yotel (Heathrow)
OK, so you probably weren't planning on bedding down within spitting distance of the airport, but just hear me out for a moment. If you're flying into town from the north, say, and perhaps just staying for one night, then you could do a lot worse than this place. Based on a revolutionary Japanese cabin concept, Yotel offers rooms modelled on first class aeroplane accommodation for just £56 per night (including breakfast) – and unless you plan to share a damp room in a warehouse with twenty-four illegal immigrants, you won't find anywhere cheaper than that.
In summary, London is absolutely bursting with unusual and quirky places to stay, but it takes a bit of research to find the best (not to mention most affordable) places. With a bit of patience and some clever planning, it's certainly possible to give the lads a weekend to remember without emptying everyone's bank accounts.