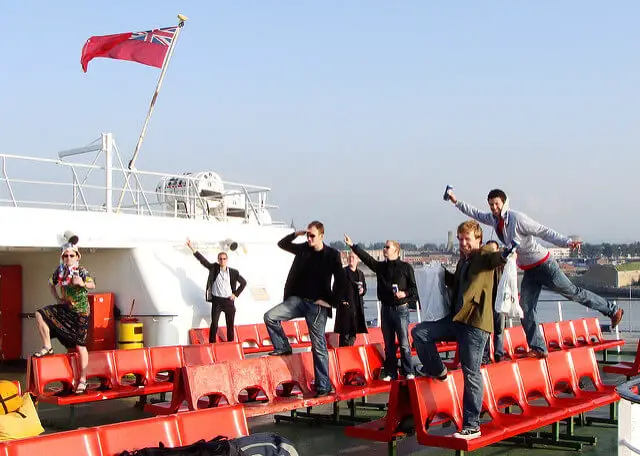 As part of his duties, it's incumbent upon the Best Man to arrange a decent stag do for the groom, his male relatives and friends. As this is essentially the groom's 'final fling' a.k.a. his 'last night of freedom', a stag do needs to be as fun, memorable and enjoyable as possible – and preferably for all of the right reasons; spending a night in police custody is best avoided.
Location plays a huge part in a successful stag do, and for many reasons (!) it may be preferable to spend a night somewhere other than the groom's home town. Luckily, the UK is awash with entertaining and exciting towns and cities that promise an unforgettable stag do.
Getting to your stag do location needn't cost the earth either; if there are sufficient numbers for the stag do hiring a multi-passenger vehicle (MPV) is likely to be far less expensive and inconvenient than taking the train. Alamo Car Hire, for example, rent rather nice MPVs that will carry up to nine people. Once you have your wheels, it's just a question of sorting out where you want to go and what you want to do to make that stag do a night to remember.
To help you decide, here's a list of – possibly – the UK's ten best stag do locations.
1. London

OK, so it may be a little more expensive than other locations but, honestly, where else but The Smoke could you find so many pubs, clubs, restaurants, hotels, take part in a real-life pub crawl around the Monopoly board and indulge in just about any kind of stag do entertainment or activity that you can think of?
2. Edinburgh
The Scottish capital is a gob-smackingly awesome destination for a stag do. This historic city boasts an outstanding night-life, and you don't have to venture far into the surrounding countryside to find loads of exciting adventure sports and activities. If you're taking the groom to Edinburgh from, say, Brighton, please note that it is neither big nor clever to get him drunk, remove his wallet and leave him stranded there to make his own way home.
3. Bournemouth

If you thought Bournemouth had a reputation as 'God's waiting room', think again. This is a full-on university town packed with students and a rip-roaring night scene. Plus, little can beat a seaside stag do for sun, sea sand and… well, lots of other activities. For example, in Bournemouth your stag party can go boating, sea fishing, go-karting, quad biking and so on, and so on.
4. Newcastle
Arguably nobody does a night out better than the Geordies, and Newcastle is an honest-to-goodness party city; the preferred destination of countless stags and hens. With stacks of stuff to do, a pub and club culture that is virtually legendary and no shortage of accommodation in which to crash after a night on the tiles, the Toon will always be a top choice of stag do location.
5. Leeds

As far as stag do's go, Leeds has the lot. A cracking city with a large student population there's never a dull moment here and definitely no shortage of things to see and do on a night out. Excellent transport links, the fantastic Yorkshire countryside on its doorstep, more pubs, bars, lounges and clubs than you can shake a stick at… what's not to like about a stag do in Leeds?
6. Brighton

Cool, cosmopolitan and packed with fun of every kind imaginable, Brighton is the party capital of England's south coast (don't forget, uber-DJ Fatboy Slim lives here). Guaranteeing entertainment on tap 24 hours a day, nothing less than a stag weekend is required in Brighton. How else will you make the most of the endless supply of buzzing pubs, clubs, festivals and activities on offer?
7. Bristol

In the last few decades Bristol has completely re-invented itself to emerge as one of the most happening, must-go modern cities in the UK. As a stag do venue, Bristol offers an unbeatable selection of nightclubs, trendy bars and traditional pubs and shedloads of activities ranging from archery to off-road karting. As an added bonus, you can easily extend your stag adventure into Wales if there's time.
8. Nottingham

The beating heart of the East Midlands and legendary home of Robin Hood, it's famously (and possibly unreliably) said that in Nottingham's women outnumber men by three to one – so keep an eye on the groom. According to a ribald football chant "Nottingham is full of fun" – this is true. A university town, Nottingham's compact city centre is crammed with trendy pubs, bars and nightclubs which cater for all tastes and there are plenty of adventures to be had in and around the city.
9. Manchester

There's far more to 'Madchester' than Coronation Street and a certain football club. With entertainments galore (try a few circuits at the famous Manchester Velodrome to burn off that post-stag night hangover) and a vast variety of some of the liveliest nightclubs and bars in the UK, Manchester is a city in which the party rarely, if ever, ends.
10. Liverpool

The former European City of Culture and birthplace of The Beatles truly rocks. Say what you like, but Scousers really do know how to have fun, and a Liverpool stag do promises a lively, boisterous and good natured tour of some of the best pubs and clubs in the land, from the trendy bars at the redeveloped Waterfront to the traditional and atmospheric backstreet pubs. Add in a shedload of awesome activities, plentiful budget accommodation and a blistering nightlife and it's impossible to go far wrong with a stag do in Liverpool.
Featured images:
John is a freelance travel writer from the UK.