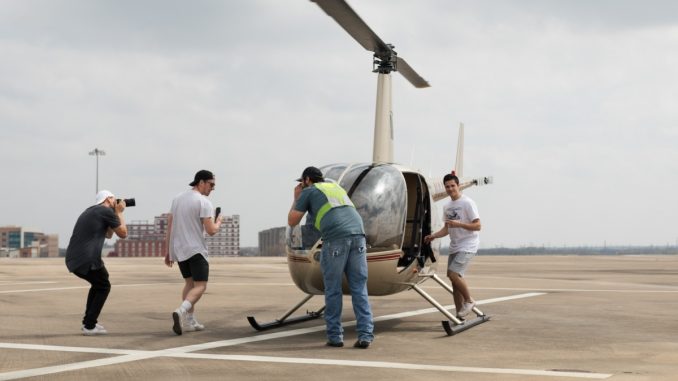 Aside from becoming a father, getting married and the period leading up to the wedding is the most memorable time in a man's life. The best man, of course, needs to assume the mantle of the party planner and do his best to organise a pre-wedding bash his best mate will never forget. After all, is there a better way to give your best friend a send-off into the still waters of married life than to throw him a stag party of a lifetime?
Remember, you're the best man, you have the responsibility to give your mate the party he needs and wants, so you really have to know what his ideal stag do should look like. If you and your mates are a bunch of adventure junkies, then this is what you need to do.
Jump out of an aeroplane
Let's start this list with the hard and the heavy, and immediately tackle one of the most adrenaline-filled activities a man can "enjoy". If the groom-to-be is a bit of a daredevil or simply wants to do one last forbidden thing before his wife puts his cojones in the proverbial cage, then skydiving might just be the thing for him.

Talk about a great way to put the fear in his bones. But of course, it's not just about scaring him to death by letting gravity try to kill you, it's also about organising a whole-day event with numerous adrenaline-filled activities that vary in intensity. With that said, let's move on to the next item on the list.
Dirt biking au naturelle
Next up, we have one of the most beloved adventure sports on the planet, one that is more of a social thing with a high dose of adrenaline thrown into the mix – dirt biking. Motocross is the ultimate manly sport, and you can choose to head out into the great outdoors with your mates for a half-day excursion in the nearby mountain ranges, or you can hit one of the custom-built tracks to enjoy some unadulterated fun in the dirt.
Whichever scenario you choose, it's imperative that you take all of the safety precautions seriously beforehand and grab all the dirt bike accessories you might need to make your ride as safe and pain-free as possible. Your essential accessories should include hand guards, skid plates, and sturdy grips to ensure your hands remain firmly on the steering wheel.
What happens in Vegas
Let's move away from the great outdoors for a bit and consider another adventurous option – a road trip with the crew. Of course, this doesn't have to be Vegas per se, but it should be a completely different setting from what you're used to with a detailed itinerary only the best man knows about. Following an adventure-filled morning in the outdoors, now's the time for booze and strippers.
Fortunately, both can be found anywhere where there is electricity and running water, so you won't have a problem booking the right venue with the right ladies. To make things even more interesting, consider organising a private poker party leading up to the main show with nude waitresses getting you in the mood for the night ahead.
Plan a whole day of water sports
If you're in close proximity of an unstable body of water that just begs of you to test your skills against its roaring waves, it would be a crying shame to miss out on such an adventurous opportunity. Every type of water sport is fun when you've got a bunch of mates at your side, but white-water rafting is definitely the daddy of all water-based sports.
There is just something inexplicably enthralling about descending down a mountainside, battling the currents with the combined effort of all that testosterone packed in one little raft – it bonds men in a unique way. Maybe it's because, at some point during your descent, you will all inevitably fear for your life, but hey, that's what adrenaline sports are all about. And don't worry; it's completely safe if you follow the instructions of the captain, so the groom is bound to make it to the wedding on time.
Actually do something meaningful and productive?
Okay, the last one might just be the weirdest thing you've ever done – something worth your time. Before you ditch the idea completely, just think about it for a moment. What if you took your mates to an event that's actually meaningful, something that can enrich your lives and make you better blokes?
It doesn't have to be boring, quite the contrary, it can be extremely fun and rewarding, you just need to embrace the right mindset. And besides, who says that a day of learning how to cook from a renowned chef, or a day of volunteering and giving back to the community can't be followed by an all-night bash with strippers, overly-loud music, and more alcohol than you can stomach?
Throwing an adventurous stag do for your best mate is a once-in-a-lifetime opportunity to showcase your worth as a friend, a gentleman, and the party animal that you are. With these stag party ideas at your side, go ahead and plan out a day the groom-to-be will never forget.