Bachelorette or hen parties are important for every bride-to-be. It's the last opportunity to savour your single life. In the ancient times, bachelorette parties consisted of week-long feasts and merry festivities with the bride's female friends and family members. Nowadays, hen parties consist of exciting and sometimes daring activities.
If you're looking for a chic and modern way to celebrate your last few days of singlehood, you came to the right place.
#1 Try glamping under the stars
Surely you've heard of glamping from Instagram and Pinterest. It's today's most stylish and luxurious way to enjoy nature. You and your entourage can spend a night glamping in a teepee and enjoying other fun activities like making smores, crafting and crocheting.

There are so many glamping packages in the UK. Some packages include staying in serviced tents, while others offer add-on activities like yoga lessons, bike trails, and hiking arrangements.
#2 Go paintballing
Enjoy shooting colourful paintballs with your bridesmaids. Pretend that you're Lara Croft or other famous action heroines while you beat the other team. If you're having jitters or if you want to vent out your stress, paintballing with your female entourage is definitely the best way you can celebrate your hen party.
Typical paintballing packages include morning and afternoon activities for all the participants. Some packages also include meals, accommodations and complimentary drinks.
#3 Kart Racing with the gals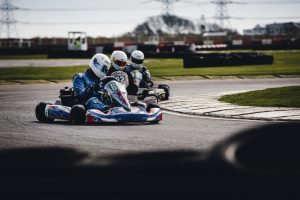 Photo by Alex Andrews by Pexels
If you haven't tried kart racing, you're clearly missing out on life. It's one of the most exhilarating and memorable activities you can do before you get hitched. Get your heart pumping as you race against your whole bridal squad.
Challenge your girls to a friendly racing competition. Best girl wins exclusive passes or a special token.
#4 Get locked in an escape room
Have you been itching to try entering escape rooms? There are thousands of escape room games all over the world. You can either check out local or international escape rooms depending on your budget.
Choose an escape room theme that will best fit your bridal squad. Surely, this experience will bring out your hidden detective skills.
#5 Classic strip fest
Hiring a cheeky and all-out male exotic dancer is the ultimate choice if you want total entertainment for all of your guests. Celebrate your last few days of freedom with your girls by enjoying a fun and exciting dance routine from your sexy male guest.
Hosting stripper parties is a classic hen do ritual. A lot of modern bride-to-be love this theme. Surely your guest won't stop giggling and teasing once the performer starts showing some skin.
#6 Book a spa party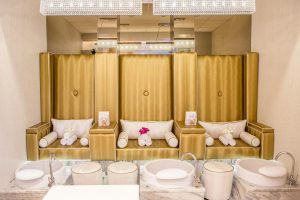 Photo by Pixabay from Pexels
Only a few days are left before your big day. If you want to look fair and radiant on your wedding day, you must consider booking a spa party. You can invite your closest female friends and family members to join you.
Book your spa getaway ahead of time, most especially if you're a summer bride. Ask the group packages to save money. Also, take note that most group packages for hen parties can only accommodate up to 12 people only.
#7 Spend your weekend in the countryside
If you are looking for a unique way you can enjoy your last days of being single, a hen party in the countryside might just the right fit for you. Countryside hen party packages allow you to enjoy doing activities like wheelbarrow racing, pig herding and eggs picking.
It's also the perfect hen do celebration is you want to take a break from the busy city. There are many party vendors who specialise in this hen do party theme.
#8 Learn belly dancing
Belly dancers never fail to mesmerise their audience most especially when they start shimmying their hips. Want to learn how they do it? You can hire a professional belly dancer to teach you and your bridal squad.
It takes time to become a professional belly dancer. By booking a belly dancing crash course, you can appreciate the art and discipline of the dancers. You also get to appreciate its symbol and history.
#9 Dare your gals to a karaoke challenge
Karaoke parties are super classy. If you're not keen on seeing a sexy stripper show or racing and paintballing with the girls, you can still have fun with a karaoke party.
Belt your heart out with the singles of Beyonce, Whitney Houston, Christina Aguilera and other popular music icons. You can also test how fast you can rap by singing Nicki Minaj or Rita Ora hits.
#10 Host a make-up tutorial
If your girlfriends love make-up, you can host a make-up party. Hire a professional make-up artist to teach your squad the basic. Learn how to pick the right foundation or concealer shade. Level up your eyebrow game and know how to create the perfect cat eye.
As your wedding draws near, you should take the opportunity to spend more time with your families and friends. Whatever hen party theme you choose, we're sure you're going to have memorable moments with your dearests.