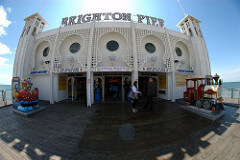 It's easy to think that once you've been asked to be the best man, your title is secure and you need do little to nothing to remind everyone of just how utterly awesome you are. Well, we're sorry to tell you that upon accepting your job as the best man the work has only just begun.

And with all great titles naturally comes responsibility, such as making sure the rings are accounted for, pep talking your mate should his cold feet freeze over and delivering the speech of the century at the wedding. Now, while this may be daunting, it doesn't need to be all hard work and sideline pressure. A highlight to the honour of best man is your job of organizing the stag do – a raucously irresponsible event that no one will forget!
And in order to do it as only the BEST best man can, there's only one real solution – a stag weekend in Brighton!
Men will be Men
While the ladies will be pampering themselves pretty and sipping on pink drinks during their hen party, a stag party in Brighton offers the opportunity for men to be just that – men! And if running around [pullquote position="right"]like man things through woodland as you duck and dive from the non-lethal splat of a paintball is your idea of getting the adrenalin pumping[/pullquote], then do so at Demolition Paintball. Just be sure to come ready for battle.
Release the hunters in the group with an Action Pass as Polowood. Aim, blast and swing your way through a session that combines clay pigeon shooting, archery, air rifle shooting and even axe throwing. Probably best to start off with this first before hitting the pubs and (potentially) your own friends.
Send chills down the spines of every stag party reveller as you embark upon a tour of the Lanes – Brighton's most haunted quarter. Complete with the chance to stop off for a fear-calming pint along the way, the accounts of hauntings will make for a thrilling adventure of an altogether more ethereal nature.
For something completely different, you'll be able to give the groom something to remember the weekend by when you film a pop video at Go Experience. So whether you're rocking out to some golden oldies or crooning to smooth tunes, you can all have a laugh before the big day (and for as long as the souvenir DVD lasts) as you live out the day in the life of rock star.
[pullquote]As a prelude to any raucous evening, it can sometimes work well to just keep things simple[/pullquote]. Enjoy a burger and a pint of Becks as you and the stag party battle for the title of Masters of the Pool Hall at Riley's Sports Bar. Thereafter, you can dance away the hours of the night at the legendary seafront club called Shoosh – Brighton's best and only VIP club.
If you're on the search for something all the more disorganized, you can just head for West Street, which lies a ten minute walk from the station. Tooted as the main "strip" of Brighton, it features a large number of night clubs and branded pubs, offering amply opportunity for mischief and revelry that will see you spoiled for choice should disorderly conduct see the groom chucked out of the club (even if it's on more than one occasion).
It can't be denied that a stag party calls for the entertainment of a more feminine leaning. Mix things up at the Platinum Lace gentleman's club, where the party doesn't stop until 5 am, as you and the group while away the hours enjoying the assets on offer (weak, we know, but it's almost impossible to write this without sounding like a tit).
With stag party weekends deeply ingrained in its very culture, [pullquote position="right"]Brighton is a prime location to celebrate your groom's final countdown to wedded bliss[/pullquote]. And with more than a few activities to full the hours in a day, it'll certainly be one stag do that'll see you live up to the BEST best man standards.