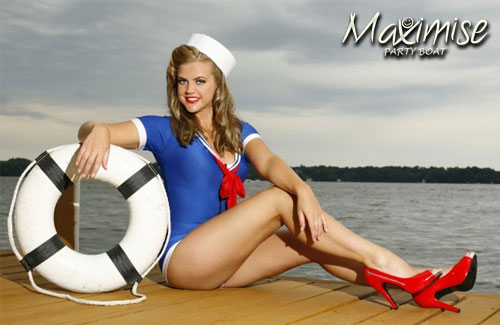 No stag do is complete without some activity during the day. Whatever the activity, if it at least delays the first beer of the day, and gives the boys something to brag about at night, then mission accomplished.
You may already know exactly what the stag do activity is. The stag may want to fulfil a life long ambition to go naked frozen waterfall climbing. Or the boys are all petrol heads, so rally car or gokarting are a given. If this is the case, then read no further but consider next where best to enjoy your stag weekend.
However, you may have a stag do on the horizon, and looking for ideas to pitch to the stag group for votes, discussion, and ultimately a green light. The folllowing list has been written for that brainstorming stage of your stag do planning. Starting from A, and finishing with Z , we've scoured the planet (well, the interweb anyway) for all possible stag do activities.
A
Kicking off with an action packed set of stag activities are abseiling (not for altophobes), making a splash at the aqua park or amusement park, and getting down and dirty on a military assault course. If using deadly force via things that fly through the air very fast is your bag, then consider air rifle shooting, archery or axe throwing. And if the stag needs bringing down a peg or two, then you could always set up a fake police arrest – this obviously comes with a massive health warning so assess whether the stag could handle it.
B
There are a bevvy of B-based activities ranging from the highly active (basic combat day, bobsleigh racing, bungee jumping), to the slightly unhinged (beer keg racing, blindfold driving), before descending to the relaxed (boat cruise) and slightly intoxicated (beach bar day, brewery tour). Could all these stag activities be combined in one day? Quite possibly? Would the stag party live to tell the tale? Probably not!
C
Canoeing, canyoning, catamaran sailing and caving give the boys plenty of reasons to get very wet. If they'd prefer to get active at height with ropes, then coasteering, cliff jumping or climbing might be their stag thang. And try as I might, I can't seem to group these activities into any theme whatsoever: cyber golf, clay pigeon shooting, camel trekking and chuckle buggies.
D
Dastardly stag do activities indulge any stag's love of fish (deep sea fishing), horses (day at the races) dirty petrol (dirt buggies and dune buggy racing) or whisky (distillery tour). And none of those activities are sweaty enough for you, try fighting it out on the dodge-ball court.
E
In our epic quest for activities beginning with the second vowel in the alphabet, we found lots of extreme this…and extreme that. Some websites were even claiming tiddly winks as an extreme activity. But alas, we have yet to find a genuine activity for this letter so the search continues. Please write in if you can help with our quest.
F
This didn't need a lot of research to be honest, with football dominating many a best man's thoughts when planning the classic stag do. That could be either playing the beautiful game in 11-a-side or 5-a-side format, or getting football tickets for a premiership game, or something a little more exotic abroad. If it's not a footy crazy bunch of fellas, then other memorable stag activities to sign up for are firearms shooting, fishing and free fall flight simulator.
G
G mixes up some good ol' tried and tested stag activities with some the stag group might never of, let alone tried. The most popular stag weekend activity is gokarting of course, with a round of golf and greyhound racing also well trodden and popular things to do. For those in search of an adrenaline rush and some competitive action between the lads, then Gaelic games, gladiator jousting or gorge scrambling might fit the bill.
H
Groups looking for speedy thrills on land should try Honda pilots. If water thrills and spills are more suitable, then speed across the water with hovercraft racing, or speed in and down it with hydro speeding. The rest of the H's are pretty diverse, ranging from high ropes course and highland games, all the way to horse racing and then onto human table football.
I
We've knocked out all the indoor activities we've found such as indoor climbing, indoor gokarting and indoor paintball, as the outdoor version can be found elsewhere on this list. That only leaves one activity which will leave a big smile on everyone's face…It's a Knockout! But there again, shouldn't that be in the K section?!
J
Intensive research has thrown up 2 very different activities. The lads could either fulfil their childhood fantasy of being Bob the Builder with some JCB racing action. Or they could fulfil a much more adult fantasy with jelly wrestling, with plenty of laughs when the stag gets involved!
K
Both Ks are water based, the difference being the mode of propulsion. If the power of wind appeals, then learning to kite surf could be fun. Kayaking is the other activity option, with some upper body strength needed to paddle around.
L
The Ls are a pretty feisty, war-mongering bunch of activities. Laser combat, laser quest or laser tag is fantastic fun for the modern stag soldier, or take a step back into the middle ages with some long bow and archery target practice, maybe combining this with a low ropes course.
M
There is a magnificent array of activities to satisfy most stag do's thirst for motorised speed in weird and wacky vehicles. The weird and wacky includes motorised bath tub racing, monster trucks, micro quads, mini motos and mini tank driving. Max kats and mud buggies are also available for those speed freaks who will only cry "enough" when they get splattered in mud whilst racing.
Finishing off the Ms is an assortment of joys, from machine gun shooting and motor paintballing, through to tackling a military style assault course or going mountain biking. It seems getting very muddy features a lot with many of these activities!
N
N is for none, as we can't find or think of any stag do activities beginning with this pesky letter. And just making an activity naughty doesn't count either.
O
Orbing is one of the most unique experiences in this complete A-Z activity list. Tumbling down a hill inside your own plastic ball, never has 2 minutes felt like it would never end! The rest of the Os to consider are ideal for any motorsport addicts in the stag group:  off road buggies and karting, and outdoor race karts. If it rains, it only gets better with more slides and mud to contend with.
P
Ps pack quite a punch, and with a great range of activities to choose from. For the energetic, there's paintballing (classic activity with "hunt the stag"), power kiting and paddleboarding. So some novel things for the guys to try, learn and maybe master.
If speed is required, then powerturn dragsters could be just the thing on land, or powerboats for the sea. And if being sociable is a higher priority than high energy action, then organising a pool tournament or sharing a traditional mediterranean paella lunch might be the order of the day.
Q
It's got 4 wheels, it's motorised, handles most terrain, and many a driver has come a cropper on them. That's right, it's driving a quad bike, and possibly going on a bit of an adventure with a quad safari. Apart from that, Q activities are unsurpisingly short on the ground.
R
AaaaaRRRRRggh! This category is filled with loads of thrills, the thrust for your speed either coming from a highly tuned combustion engine, or the natural forces of water.
Rage buggies, rally cars, rally driving and rally karts will certainly give the stag group the high octane action they're looking for. But if it's splashing around you're looking for (and it's not the middle of winter), then there's loads of stuff to choose from. Ringo riding, river bugging, river canoeing and river rafting. Raft building is also a great option for getting the group together, and riverboat cruising is a good sedate option for gently clearing that hangover, and maybe preparing for the next one !
Other options include rifle shooting, rock climbing and or watching a good game of rugby. And if you're looking for an experience never to be forgotten, and get to Pamplona for the actual fiesta, then try running with the bulls.
S
Plenty of watery activities to choose from, with scuba diving, shark fishing and surfing – best not to mix these activities for your own safety. If you're near some fluffy cold white stuff, then skiing and snowmobiles are definitely options on your radar. Even if you're not, dry slope skiing can be great fun for the stag group.
If the boys need some good competitive action, this could be fulfilled with an ecletic mix of stag activities, ranging from stock car racing and shooting to real mano-a-mano sumo wrestling – a great activity for getting photos of the stag.
More chilled options are sightseeing and chilling in a spa, and for testing more than just the lads' braun, why not try sphering or slacklining.
T
There are some great adrenaline pumping options to choose from here – doing a tandem parachute jump, tobogganing and tank driving. There's also some ideas which should please most stag party members, and leave no-one out. The stag do could go ten pin bowling, have a day out at a theme park, or get to know a new city with a treasure hunt. These are relatively cheap options as well if budget is a priority.
U
I'm struggling with finding and U-starting stag activities – learning to unicycle as part of a circus skills workshop maybe? Quit whilst ahead is the best option I feel.
V
As we approach the end of the alphabet, it really feels as though the "why didn't I think of that" stag activity ideas are drying up. In fact, pretty much any idea has towelled itself down, got changed, and gone off to the pub for a pint by now. Unless you stick virtual or VIP in front of an activity already mentioned, no Vs come to mind.
W
It's not over until the fat lady sings. And so after the dearth of stag-friendly activities, get yourselves soaking wet with some cracking wake-me up watersports such as wakeboarding, waterskiing, windsurfing, white water rafting and white water ribbing. XYZ … bring it on !
X
eXtreme … errrr …. mountain biking ? Maybe not.
Y
Yacht Sailing
Z
Zapcat
Zombie Boot Camp
Zorbing