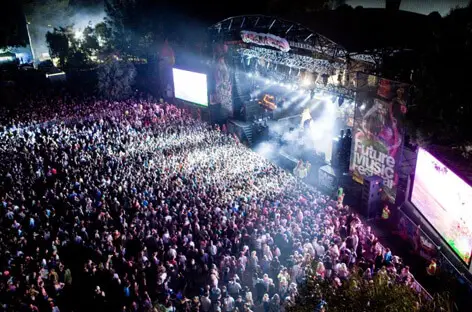 One of the great things about a Stag Do is that it's your chance to create a bespoke experience for your best mate, tailored to the stuff he likes. Yes, it's vitally important you ensure a significant portion of the weekend is spent making him look like a tit, but in and around that it's always nice to treat the fella with an activity or two that you know will be right up his street. If the groom in question is particularly crazy about one activity or pastime, you might want to think about basing the weekend around that theme. A sports fan would be pretty easy to cater for, and if all your best buddy's really into is getting hammered then you may find most of the hard work has already been done for you! But what if you've got a music-mad friend getting married and it falls to you to organise proceedings? Here are some tips for injecting the spirit of rock 'n' roll into the Stag Weekend…

GIGS
The simplest and most obvious focal point for a music fan's stag weekend is a gig, or maybe even a series of gigs. This could encompass anything from indie bands in darkened clubs to globe-trotting rock legends in packed arenas, depending on your location and preference. If you know where you're going, find out whether the city or town has a particular district known for live music (the Northern Quarter in Manchester, say, or Temple Bar in Dublin) and head in that direction. That way you should be able to combine the bands with a raucous pub crawl.
THEMED CLUB NIGHTS
Most cities, particularly in the UK, host nostalgia club nights catering to specific eras or genres of music. One of the best is called Ultimate Power, a shamelessly poodle-permed '80s singalong club-night that holds events all across the country and celebrates the best that Phil Collins, Bon Jovi, Meatloaf et al have to offer. It's also not difficult to find Britpop nights, heavy metal clubs and so on if you poke around the web for long enough.
KARAOKE
Depending on the type of crowd you've got, karaoke can be a real blast. For true carnage you want the Asian-style private rooms like Lucky Voice (as opposed to standard pub karaoke), as you'll be left to your own devices for hours on end. Plus these places all have in-house bars, opening up the potential for creative karaoke-based drinking games – if you screw up the lyrics, for example, you have to finish your drink.
AIR GUITAR CONTESTS
This one is pretty niche, and would take a fair bit of organisation, but if successfully pulled off could well result in an unforgettable Stag Do experience. The UK Air Guitar Championships are growing in popularity every year, and entry is open to anyone. It could be quite a laugh to sign the Stag up without telling him and then all rock up at the event to watch him strut his stuff (try getting him drunk first for maximum comic effect).
MUSIC-RELATED DRINKING GAMES
Finally, if you'd rather keep things simple, there's a ton of music-related drinking games you can play anywhere, many of which your fellow stags will already be familiar with. Grand Old Duke Of York takes the traditional nursery rhyme, drops a different word each round and penalises anyone who accidentally sings during a gap. Then there's games like Roxanne (using The Police song) and Turn Around (using Total Eclipse Of The Heart) which demand you drink every time the band sing a particular word or phrase; or, if the Stag is a keen gamer, he might get a kick out of playing the unofficial Rock Band Drinking Game (click here to read the rules). And hey, if you happen to know Bono, why not invite him along to the Stag Do? Mind you, I've heard he can't take his drink…