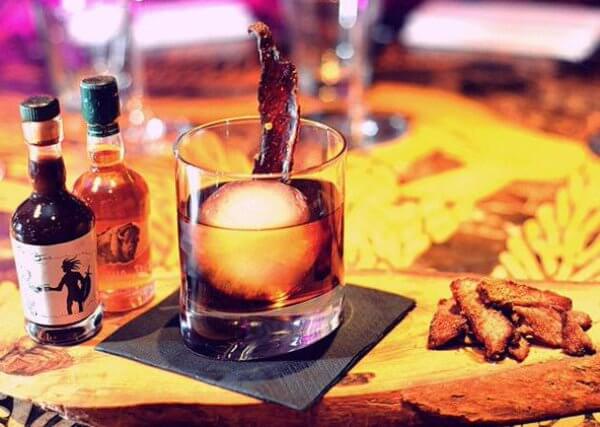 Some Stag Parties are best suited to forty-eight hours spent knocking back cheap, flat lager in a Wetherspoons and farting in people's beans.
But not yours, oh no. You, your Stag and his chums are the sophisticated sort. Not for you the sort of weekend that starts with a pork pie in O'Neill's and ends with pissing into a bin outside Ryman's. No, you seek the rarer and more peculiar pleasures in life and, in particular, strive to imbibe only the kind of stately and exceptional alchoholic beverages that you can quite literally write home about.

First of all, come to London. We have everything imaginable here and, while we might charge you through the nose for it, we promise you'll go home with a tale to tell.
Secondly, heed this list of London's weirdest drinks. It features easily enough weird booze to keep you going for an entire weekend.
ARRACK: one of the world's oldest spirits
– What is it?
Arrack has been around for many centuries, and indeed Marco Polo was an early adopter way back in the 13th century (when he wasn't paddling blind around swimming pools, presumably). Commonly found in Indonesia and Sri Lanka, arrack is made from molasses or the sap of coconut palms. Ooh yeah.
– Where is it?
Super-hip Shoreditch joint the Nightjar does something called an Arrack Julab, made with Ceylon arrack, rum, absinthe, turkish delight syrup and Arabic bitters.
MEZCAL: smoky tequila cooked over open fires
– What is it?
Mezcal, jokingly known as 'tequila's older brother', is native to the Mexican province of Oaxaca, distilled from agave and picks up its distinctive smoky flavour from being cooked over open fires. Best drunk neat, so the legend goes, for the headiest effects.
– Where is it?
Nice and central, this one. Find a wide range of mezcals at Café Pacifico in Covent Garden.
AQUAVIT: potent Scandinavian 'water of life'
– What is it?
Aquavit came straight out of Scandinavia in some long-forgotten century, where it became popular for its ability to warm the cockles during the bleakest of winters. Although traditionally served chilled in shot form, the drink is enjoying a renaissance as a cocktail in London's hipster bars.
– Where is it?
Hit the Experimental Cocktail Club in Chinatown where Swedish bartender Alex Skarlen has knocked up some inventive, and powerful, aquavit concoctions.
RYE WHISKEY: go all 'Mad Men' with this American classic
– What is it?
Rye Whiskey has crept back into fashion recently, what with the revival of classic American cocktails such as Old Fashioneds and Manhattans (thanks largely to the success of TV show Mad Men).
– Where is it?
Hit The Manhattans Project in East London's popular Broadway Market, where expert bartender Felix Cohen will sort you out with something special.
MEAT COCKTAILS: why shouldn't bacon be boozy?
– What is it?
Now we truly are in Stag Do territory – and why separate the boozing from the noshing when you could kill both birds with one terribly meaty stone? Believe it or not, meat-infused cocktails are all the rage in the city's more alternative bars these days, and aren't nearly as disgusting as they sound.
– Where is it?
Camden is certainly one of the edgier districts of London (in a friendly way), so it isn't all that surprising that it's the place you want to head for cocktails of the meatier kind. South African restaurant Shaka Zulu has dubbed itself the 'most carnivorous bar' in the capital, and serves everything from Bloody Bacon and Meatequita to the Wheeling Salmon.