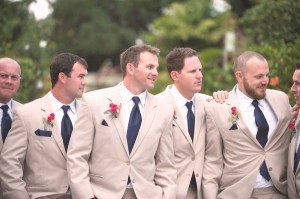 Gearing a London wedding towards women is the normal way of doing things. It's time now for grooms and grooms-men to come to the party. Usually women get the shower, flowers, fancy outfits, and pampering. However, here are some new ways to make wedding planning and weddings in London more fun for men.

Although it's not as easy it sounds, it does requires some special planning and a little creativity to pull off a man-friendly wedding in London. Feel free to chime in with your comments after reading these amazing ideas:
A Dinner Rehearsal with the Groom
Plan an early celebration with family members and best friends. Make it special for your groom by doing it the way he wants. If he wants to have a picnic with his best pals, then go for it. Plan a barbecue or a sporting event, whatever makes your man happy.
Just go with the flow and plan a dinner rehearsal, serving his favourite food and beverages. There are few rules for planning a rehearsal dinner in London, but you don't have to relate it with wedding formalities or the venue.
Document His Prep Time
If the wedding schedule allows you then ask your photographer to document the whole getting ready side of things. This will help you to emphasize that the wedding is about the couple and not just the bride. Let the photographer head over to his suite before the ceremony.
There would be some mental prep going on, just like the women's suite. Ask him to get some snaps of groom getting ready for his big day. He can document early stages of hair grooming and dressing too.
Give Him Something Special
A London wedding is not just about the groom giving gifts to the bride. You can also make him feel special by giving him a really fun wedding gift. For examples, you can give him highly personalised books, jewellery (earrings or cufflinks), and so on.
Every man appreciates gifts from his bride. He will be amused to get a set of beautiful, quirky cufflinks or some other fun wedding gift. You can even think of gifting him a new smartphone, a tablet, or iPad, preloaded with some of his favourite songs, games, and books.
Once you give him something at the wedding, he will be even more excited to meet you at the altar. This will give him a signal that you know him well enough and will be a perfect match for the entire life.
Little Pranks Can Be a Lot of Fun
Every bride wants her wedding day to be perfect. But, playing a few tricks on your groom can be actually a lot of fun. It helps you to create special memories for the groom.
Set the clocks in the church a  few hours forward, so that he thinks he's late. You can even write "HELP ME!" on a paper and ask groomsmen to paste it on his back. Don't worry so much about the wedding day being perfect. A little bit here and there, you will have a funny day to look back on in life.
If you made your groom feel special, then share your experience here. Chime in to comment and let us know how it feels to impress your man.
Author's Bio: Maddy is wedding planner and blogger, who writes for thecitycollection.org. On this site, you can find a number of wedding venues, tailor-made especially for your weddings in London. Both groom and the bride are sure to find a dream place to tie the knot right in the heart of the city.