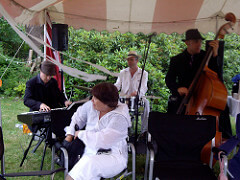 The band members just couldn't make eye contact any more after what happened with Uncle Jimmy
A wedding is one of the most important events in the life of many. Perhaps, this might be because the wedding will only happen one time. Due to this, many individuals want to make their weddings and reception memorable. Selecting the best wedding bands is one of the most important things that will make the wedding original yet unique.

Currently, there are many different bands to choose from. Even though the majority of the bands say they are great, not all of them are able to deliver you with the type of performance that you would like. With this, you need to go through the process of choosing a band that will perform seriously at your reception.
The past performances of the band is one of the most important things that you need to think about. Your main goal when you are hiring bands is to get the best from them. Thus, you need to search for a band that has provided the best entertainment for other weddings. You can find assistance from organizers who might have dealt with these wedding bands before. This will help you figure out which bands are the best at performing.
It is also important that you think about the type of music that the band will be playing. In many cases, the individuals that you have at your wedding are ones that you know. With this, you know the type of music that will impress them. This means that [pullquote]you are able to choose the right wedding bands that will play the music they like.[/pullquote] Additionally, when you choose a band that you are going to hire, you will be provided with the list of music that you want to hear. This will let you select a band that has the right type of music that you want.
There is most likely a specific type of music that is popular within the town that you live in. If your guests enjoy a certain type of music, ensure that the band you choose are going to play that music. You may also search around online to[pullquote] find a band that plays the most popular music. This will ensure that the music at your wedding is trendy and the guests enjoy it.[/pullquote] People will always keep your wedding in mind if you do something that is special and unique. Thus, you need to search for a band that is not only going to entertain those there but also make them keep your wedding in mind for a long time.
It is also important that you think about how much they are going to charge you for their services. [pullquote position="right"]Various wedding bands will charge clients based on the services that they want.[/pullquote] Variations in the prices may be based on factors like how long you are wanting them to perform and how popular the band is that you are choosing. Therefore, ensure that you are hiring a band that will charge services that will fit with your budget. Nevertheless, with the large amount of bands, you can find the best one if you take a little time to look around.
Sarah Martin has been a brass player in a multitude of wedding bands for many years. Sarah also composes and records her own music.