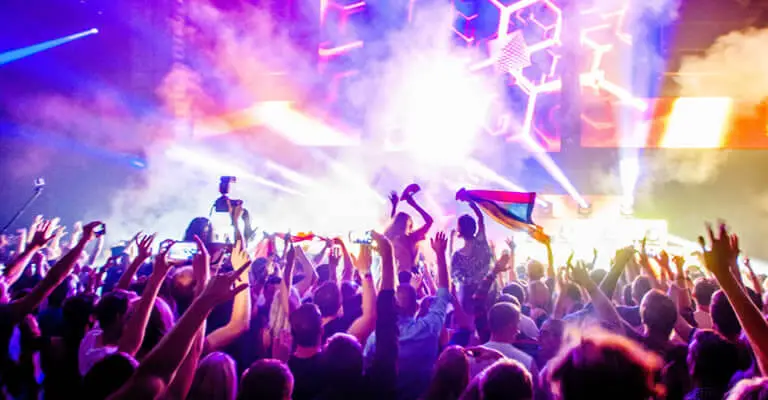 Is the stag into a particular genre of music? If so, it could be a laugh to base the stag weekend around that theme. Here are some ideas to get you started…

If he's into… HEAVY METAL
Out On The Town
Almost every town in the UK has its own heavy metal club – The Intrepid Fox in London, Scruffy Murphy's in Birmingham, Bogiez in Cardiff. Perfect for a night of head-banging and/or sexy goth-chasing.
Movies
Over the course of the weekend you'll probably want to chill out at some point, or at least have a movie playing while the guys grab some nosh. When it comes to metal-heads, and in fact music fans in general, you can't go wrong with This Is Spinal Tap, the classic Rob Reiner mockumentary. Alternatively, recent release Anvil (a documentary about Canadian metal band Anvil, funnily enough) is to all intents and purposes the real life Spinal Tap, as well as being a brilliant movie about band bromance.
Drinking Game
Whack Metallica's Enter Sandman on the stereo, pump up the volume and drink every time Kirk Hammett thrashes out that killer guitar riff. Best to discount the one-minute build-up before the song kicks in, however – even the most hardened drinker would knock themselves out doing that.
Recommended soundtrack
Heavy metal isn't everyone's cup of tea, so in the interest of not hacking off 90% of the Stag Party you're probably best off picking the hits that everyone knows…
– Paranoid (Black Sabbath)
– Hallowed Be Thy Name (Iron Maiden)
– The Ace Of Spades (Motorhead)
– Cowboys From Hell (Pantera)
– Welcome To The Jungle (Guns 'n' Roses)
If he's into… RAP
Out On The Town
Ever been to a rap battle before? No? Well, this could be the perfect chance to try it out. Rap battling is becoming more and more popular these days, and with a little advance planning you should be able to find one going on somewhere near you (particularly if you're in a major city). This website will give you some pointers: www.dontflop.com.
Movies
If live rap battles elude you, you could always settle for the screen version in Eminem's Oscar-winning 2002 movie 8 Mile. Who knows, maybe the boys'll be inspired to give it a go themselves?!
Drinking Game
Grab a cold beer, spin NWA's A Bitch Iz A Bitch on yo phat soundsystem, and drink every time they use – you guessed it – the 'b' word. This game will feel a bit misogynistic, but it's perfectly OK as long as you play it with a sense of irony. I think.
Recommended soundtrack
The same applies here as with heavy metal. Rap is an acquired taste, and not everyone's likely to appreciate three hours of early Wu-Tang Clan demo tapes when they're trying to kick back with the boys. Stick to the big tunes that'll get the crowd jumping. Stuff like…
– The Real Slim Shady (Eminem)
– 99 Problems (Jay-Z)
– Walk This Way (Run-DMC ft Aerosmith)
– Fight For Your Right (Beastie Boys)
– Jurassic 5 (Concrete Schoolyard)
If he's into… MUSICALS
Out On The Town
Not all Stag Parties are a rolling juggernaut of testosterone, belching and football chat. If the groom is more West Side Story than West Ham, how about a group trip to a smash-hit musical? Either that or you can settle in at a piano bar (Elton John hits a-plenty) or one of those mental film nights where everybody dresses up and sings along to the Sound Of Music.
Movies
You've got an absolute treasure trove to draw from with this one. Aladdin, The Lion King, Moulin Rouge – the list goes on…
Drinking game
Remember Make 'Em Laugh from Singin' In The Rain? Well, try drinking every time he sings the word 'laugh' – or, if you're really hardcore, nailing a shot (this may well guarantee you're not laughing by the end of the song). [Hint: do not attempt Cosmo's famous up-the-wall backflip after downing three pints of lager.]
Recommended soundtrack
Beware – even more people hate musicals than do heavy metal and rap. Consider your crowd in advance. But if everyone's into it, then just go WILD, girlfriend.
– Hakuna Matata (The Lion King)
– You Give A Little Love (Bugsy Malone)
– Consider Yourself (Oliver)
– All That Jazz (Chicago)
– Singin' In The Rain (Singin' In The Rain)
If he's into… '50s ROCK 'N ROLL
Out On The Town
The retro scene is big business at the moment so you shouldn't have too much trouble finding a boozing hole where the tunes are more Bo Diddley than Bo Selecta, particularly in London. The capital has numerous retro-style venues, from Joe's Bar in Camden to the coincidentally-named Madame Jojo's in Soho. Outside London you might have to search a bit harder, but Google should tell you everything you need to know. Brighton, for instance, has its very own – and very popular – vintage club night called Frockabilly.
Movies
As mentioned in the last article, you might want to have a few themed DVDs on hand to whack on the telly during downtime. Along the '50s rock 'n' roll theme you've got Elvis' Jailhouse Rock, Back To The Future and of course That Thing You Do (you could set a rule where the lads have to finish their drink every time the band play the theme song – which is often enough to really get the party going…).
Drinking Game
Try sticking Bill Haley's Shake, Rattle & Roll on the stereo and getting the boys to drink every time Bill sings (duh) 'shake, rattle and roll'. They'll be buzzing in no time.
Recommended soundtrack
You can't really go wrong with classic rock 'n' roll, and the choices are endless – but it might be a good idea to steer clear of anything too hackneyed and obvious. Try a few of these on for size:
– Long Tall Sally (Little Richard)
– Whole Lotta Shakin' Goin' On (Jerry Lee Lewis)
– Roll Over Beethoven (Chuck Berry)
– Wake Up Little Susie (Everly Brothers)
– Be-Bop-A-Lula (Gene Vincent & His Blue Caps)
If he's into… CLUB CLASSICS
Out On The Town
If the Stag is a clubbing fiend, you've landed on your feet. Simply pick a club, remind the boys to bring a decent pair of shoes, and hit the town. Just make sure you've got enough fuel in the tank to last until 6am.
Movies
While the fellas are getting revved up for the evening, try putting 24 Hour Party People on in the background, or possibly Human Traffic. You'll be havin' it large in no time.
Drinking game
Dance music drinking games can be absolutely lethal, because the songs are generally so repetitive. Classics that work well include The Shamen's Ebeneezer Goode and 2 Unlimited's No Limits.
Recommended soundtrack
Once again, as with any genre, you'll make the most friends if you crank out the hits. Here are five mega-anthems to get you started:
– Music Sounds Better With You (Stardust)
– The Rockafeller Skank (Fatboy Slim)
– Everybody Dance Now (C&C Music Factory)
– Titanium (David Guetta)
– Dynamite (Taio Cruz)
If he's into… JAZZ
Out On The Town
Okay… now we're talking. The jazz scene is alive and kicking all across the UK, although clubs are unlikely to tolerate the Stag being sick on his own shoes during the sax solo so you're probably best off scheduling this bit for early on in the evening! Every major city has at least a half-decent jazz venue, from Matt & Phred's in Manchester and Seven Jazz in Leeds to Reading's reputable Jazz Café. Edinburgh has a particularly thriving scene if you're considering Scotland as an option.
Movies
Jazz isn't known for great movies, and you'd probably want to wait until at least 2am to put one on anyway so as not to prematurely mellow the party! But if the occasion arises, Clint Eastwood's 'Bird' (about jazz visionary Charlie Parker) may well be the best of an average bunch.
Drinking Game
Jazzers tend to be more sophisticated than most and might turn their noses up at the idea of a jazz-based drinking game – but this is a Stag Do, and that's what you do on a Stag. Simple as that. So throw on Is You Is Or Is You Ain't My Baby by Louis Jordan and make the lads knock back a shot every time he says "is". Hilarious. But, you know, very sophisticated.
Recommended soundtrack
Don't send people to sleep; keep it upbeat. Give these classics a go:
– It Don't Mean A Thing (Duke Ellington)
– Groovin' High (Charlie Parker)
– Moanin' (Charles Mingus)
– A Night In Tunisia (Dizzy Gillespie)
– Sing, Sing, Sing (Benny Goodman)