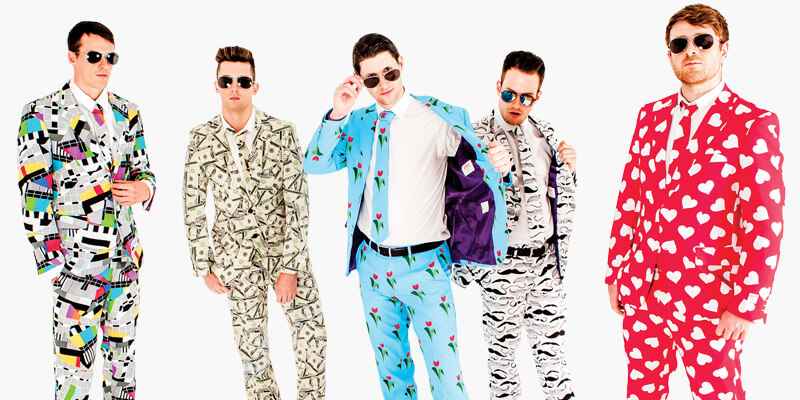 Everybody knows that one of the fundamental elements of a stag do is making your stag look like an almighty tit. In fact, preferably he should look like an almighty tit almost the entire time, which makes putting advance thought into stag costumes an essential part of the planning process.

It doesn't take huge amounts of time or money to put together something that'll not only look classic in the photos, but cause untold amounts of hilarity amongst the group. The great thing about blokes is that they don't mind being laughed at, which means you can absolutely go to town on the costume front.
If you're stuck for ideas, give one of these a whirl:
1. The Stag
At the risk of stating the obvious, it can be quite a laugh to dress the stag up as an actual deer. This works particularly well if the location you've chosen is a rural one, as you can get plenty of shots of him crawling through fields, stuck in hedges, chewing the cud and so on. Best of all, you can achieve the desired effect with just a small number of easily sourced items. The most vital element of the costume is of course the head, which is also where you want to blow the majority of your costume budget – jump on the web and order him a full-head latex deer mask with tiny eye holes (this one worked really well on my best mate last year). Once you've sorted the head, hit Primark and pick up some cheap brown clothes – preferably women's –  to give him the semblance of an animal's body. Something like a strappy top and a pair of brown leather shorts will do, or hot pants if you can find 'em. This costume also opens up a whole slew of possible prank options too, not least sending the poor fella out into the wild and hunting him like – you guessed it – a stag (with some form of non-lethal weapon, perhaps, like super-soakers or water balloons).
2. The Away Fan
Is the stag a big sports fan? If he is, you may already have thought about introducing a sporting theme to proceedings. This is a simple idea that, done well, can provide amusement all day long. Book tickets for the group to attend a local sports game, preferably for a team that the stag supports. Make sure you're all sitting in one of the home stands, but dress the stag in the away team's kit. If your budget allows, make his costume as ridiculous as possible – cover him from head to foot in away team merchandise, such as scarves, hats, bum-bags and maybe even one of those old-fashioned wooden clackers. Rub this in by drawing constant attention to him throughout the game. Word of warning: Use your noggin, and don't do this at the kind of match where it could lead to fisticuffs. Rugby's better than football, to be honest, as rugger fans are far more laid-back and would more than likely appreciate the joke. But if you must do it at a football match, avoid Millwall.
3. The Bikini
If you're organising a stag do in a hot country, then The Bikini is an absolutely killer costume option (actually, if you're in a cold country it can be classic for all the opposite reasons – although we don't want the guy catching hypothermia, so this one isn't really recommended for any stag weekends in Kazakhstan, Mongolia or similar). Bright pink is probably the best colour, closely followed by yellow or luminous green. 'Skimpy' is also the word of the day, although if you're out in public you might need to give him some Y-fronts to cover his modesty so as to avoid getting anyone arrested (which always sounds fun, but definitely isn't, particularly if you're in Mexico).
There are many more stag costumes…
This is only scratching the surface, obviously, and there are about a billion ways to make sure your stag looks like a world-class turnip during his final weekend of freedom. Got any stories about your own stag costume experiences? Let us know in the comments section.