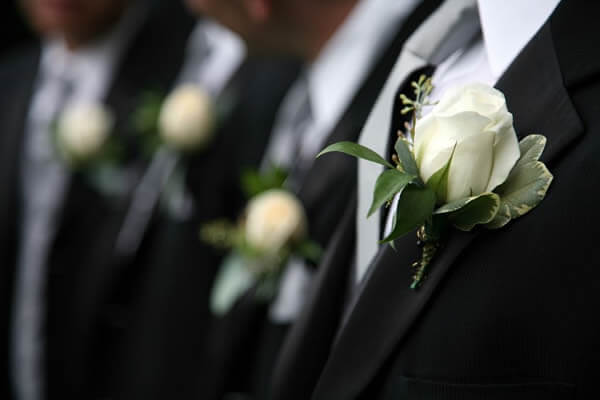 The pressure is on when you're the best man. You're not just planning one last night of freedom out on the town. Instead, you are called upon to book and deliver a full weekend away, jam packed with drinking, partying and activities. Not to mention all the necessary transport, food supplies and lodgings to make it a reality.
That task would be hard enough even if you didn't also have to take charge of a band of unruly accomplices and ensure everyone, including the Stag, makes it though in one piece.
So you put in the hours preparing, organizing and planning down to the finest detail. It's a masterpiece on paper, but all too often we hear of how the best man's best laid plans go horribly wrong when it comes to the actual event.
The gang is back together, you're reunited with your old mates and free from the shackles of the everyday grind. You're all keen to see your Stag off in style. There's always a promise of 'just a few' on the Friday evening, with Saturday night being the main event…
Then Saturday morning comes and you went too hard on the first night. You're all knackered, hungover, hungry and wanting to stay in bed. All those high-energy activities you planned for Saturday suddenly feel like a chore. 
Even if you somehow manage to struggle though a day of activities without major injury or incident, there's that 'main event' ahead. Saturday night starts seeming more like the final leg of an endurance race rather than a good time. The strong amongst you may grin and bear it, but nobody is on top form.
So what's the answer? We looked to some true veterans of the Stag Do circuit for some ideas.
Jey and the boys at Cornish Wave surf school have been living, partying and catching waves in Newquay for the best part of a decade. So these guys have seen their fair share of Stag groups come and go.
"Without a doubt, going too big on a Friday is the number one reason for a Stag Do weekend in Newquay gone wrong." Jey confirms our suspicions.
"This town is perfect for a Stag Do – amazing nightlife, fantastic beaches and plenty of activity options for groups.  But if you're feeling rubbish from a heavy night, you're just not as up for it"
In many cases, the slog though Saturday doesn't only take a toll on the morale of your group, but it can also hurt your wallet.
"We've seen optimistic stag groups book an early morning surf or Coasteering session and then have only a couple of guys show up with tales of how the others have fallen by the wayside from the night before. Sometimes the whole group is a no-show."
Knowing that you've wasted a wad of cash because you missed your activity is only going to add to the pain of the hangover.
THE SIMPLE SOLUTION
So why does this happen so often? Friday night is often left to chance, which is why it's so easy to fall into the trap of having too many drinks and getting out of hand before it's even started.
One of the best solutions is to have a proper plan for the Friday night, and a proper breakfast on Saturday morning. By all means knock back a few beers, but don't let that be the focus.
The Cornish Wave team have been working on a solution to this all-too-familiar problem. They call it the Wilderness and Adventure Weekend.
Friday Evening
It starts by taking the group out of the familiar town-centre setting – welcome to the Wild Camp set in private Cornwall woodland. Settle in, kick back and catch up with your mates over a beer as you are introduced to the camp and the itinerary for your evening.
"Do as much or as little as you want – learn some bushcraft, connect with your primal instincts with some axe throwing, learn to build a fire or simply swing in a hammock and watch the world go by."
You're in the woods, but the Cornish Wave team aren't savages – a proper bed in a comfortable bell tent is provided.
Saturday
Enjoy a hot breakfast around the smouldering camp fire. How does a bacon and egg sandwich sound? With tea and coffee to warm your bones the gang will be feeling good and ready for the activities ahead
There's just enough time to drop your gear at your accommodation for the next night – one of the many Stag Do friendly bunkhouses or B&Bs in Newquay Town Centre.
Then it's off to whatever activities you have booked. Cornish Wave offer Surfing and Coasteering sessions that are classic Stag Group options, if you're up for it they can fit both into a full day of wetsuit-clad madness. 
You're spoiled for choice in Newquay when it comes to Stag activities, so if watersports aren't your thing, there are plenty of other options available.
Whatever you go for, with your crew well rested, fed and in good spirits after a sensible Friday night, you can actually enjoy whatever adrenaline filled antics take your fancy.
Head back to your accommodation in the evening and get ready to hit the town, feeling fresh and pumped up from a day of outdoor fun.
Sunday
Do as you please before you leave. The team at Cornish Wave are always up for catching some more waves or a quick Coasteering route so if you've got any energy left, give them a call.
Otherwise just grab a pastie, take it easy and nurse that hangover. Sunday is the day to be feeling rough, but happy and smug, knowing you got value for money, your mates had a great time and a successful Stag Weekend is done and dusted.
WILDERNESS & ADVENTURE WEEKEND WITH CORNISH WAVE
Friday night social, Bushcraft, BBQ, Activities and Luxury bell tent accommodation

Choice of 

Surfing

 or 

Coasteering

 on the Saturday morning / afternoon.

Get the best of both worlds and enjoy a 

Wilderness and Adventure Weekend

.

Your own host to guide and assist your early evening activities. And share local knowledge of the best nightlife and watering holes

Tailored to you! Each Wildness & Adventure Weekend can be tailored to you –
Read more about the Cornish Wave Wilderness & Adventure Weekend.