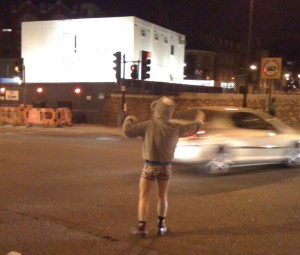 Does this sound like you? You're considering a London Stag Do, and you know Britain's capital has tons to offer… but you're also intimidated by stories of angry locals and marauding tourists, not to mention worried you might all get lost and end up being surreptitiously buggered on Clapham Common (we've all heard the stories).
Fear not – in recent weeks we've been scouring the city for its best eats, greets, sports and more, and now we're bringing together some of the highlights in one bumper article that's so hot it'll melt your face off.
London, in case you hadn't noticed, is one of the greatest cities in the world. You could attend a Stag Party here every weekend for a year and still not run out of things to do. That said, a little advance knowledge goes a long way, and so we're here to school you on where to go and what to do – while avoiding those overcrowded tourist attractions – during the all-important Stag Weekend.
DRINKING
Your best mate deserves a Stag Night to remember, and that's why it's imperative you bone up on the best boozers before hitting the town. Stag Weekends where the best man knows all the top pubs ahead of schedule always run the smoothest, and while it can be fun to explore London, wandering around in the driving rain half-smashed without any clue where you are does eventually lose its shine. Pubs we've found that are well worth a look include Camden's Brewdog, Battersea's The Eagle (for real ale enthusiasts), Covent Garden's Porterhouse (where they brew their own 9% stout) and the ever-popular Ye Olde Cheshire Cheese in the centre of town. Cool cats should gravitate towards Slim Jim's Liquor Store in Angel, or the Big Chill House in buzzing King's Cross.
EATING
That's right – food and drink always come first, and before you hit the club scene you'll want to make sure the lads have filled up on nosh. Camden Market is perfect for the smash-and-grab approach, as it caters for just about every taste. The Byron Burger chain is slowly taking over London (you can find them just about everywhere), and is perfect for a quick but delicious burger to soak up the booze – as is Dirty Burger in Kentish Town, although depending on your group size you may need to book beforehand as the place is tiny. Mexican fans should seek out the truly excellent Chipotle, recently imported over here from New York, and of course curry-heads should head straight for Brick Lane.
CLUBBING
If you're still looking for reasons to visit London, here's a big fat one – this city does bars and clubs very well indeed. Indeed, is a night out on the lash ever complete until Fat Barry's lying face down in a blocked urinal out the back of some dodgy warehouse rave in Shoreditch? Exactly. If you're the sort of person who understands the difference between 'chillwave' and 'synthcore' you might want to gravitate towards Cargo or XOYO, both East London, or, in the South, Bermondsey's Cable. If, on the other hand, you think 'The One & Only' by Chesney Hawkes is THE GREATEST SONG EVER WRITTEN, you belong at the Clapham Grand (or Inferno's, also in Clapham). Club entry in the capital can be pricey, but if you book in advance you can often get discounts, and sometimes even a bottle of bubbly for the Groom.
LAUGHING
Stag and Hen Parties have been frequenting comedy clubs since time immemorial, and [pullquote position="right"]there's a very good reason for that – everything's much funnier when you're pissed[/pullquote]. Our favourite haunts are Islington's Live At The Chapel, the Hampstead Comedy Club, Putney's Comedy Tree and the Bedford in Balham (well-known for hosting Banana Cabaret, AKA 'the friendliest comedy club in the country'). Also worthy of a mention is Knock2Bag, which has two separate venues – one in Bethnal Green at the Rich Mix and the other in Shepherd's Bush, and offers up everything from sketch troupes and character acts to established names and rising comedy stars. Plenty of these clubs also do special offers for large groups, so make sure you scour their websites in advance for sweet deals.
SPORTING
Sporting activities are often high up on the list of Stag Do ideas, whether it's spectating or participating, and the capital certainly won't let you down on that front. You're not going to find 4×4 off-road driving or clay pigeon shooting in central London, obviously, but in most cases it'll be only a short trip outside the city to reach a venue that offers those kind of sports (Southern Pursuits near Gatwick, for instance, does a bumper activities package that includes clay shooting, off-road karting, hovercrafts and more for just £65 per person inc VAT).
For the footballers amongst you, 5-a-side have venues all across the city, from Brixton and Chelsea to Old Street and Mile End. The Thames Rib Blast is also enormously popular amongst Stag Groups, offering a thrilling high-speed boat tour along the River Thames. Finally, bowling has experienced a renaissance in London in recent years, and you can now avoid the snotty kids and lukewarm burgers of the Mega Bowl by hitting the ridiculously trendy All-Star Lanes (a bowling alley with serious retro style) in Holborn, or the equally excellent Bloomsbury Blowling near Russell Square.
SLEEPING
[pullquote position="right"]Sleeping – one of the more vital Stag activities, if only to ensure you're fresh-faced and match-fit for the next day of boozing[/pullquote]. A common worry about London Stag Weekends is the cost of accommodation, but if you're smart about it you can find places that are not only affordable but even, if you're lucky, quite centrally located. Premier Inn is the obvious first calling point on this front, and London has branches everywhere from King's Cross, Islington and Victoria to Hoxton, Tower Hill and Kensington (a two-night stay including breakfast can cost you as little as £80 if you get in there early enough). Those of you feeling a bit posher might want to check out The Hoxton, which is a four-star central hotel just a few minutes' walk from Shoreditch High Street. If you're after something a little different, and don't mind flashing the cash, The Pavilion Rock 'n' Roll Hotel in Sussex Gardens celebrates the city's illustrious rock history with themed rooms such as 'Metallica', 'Enter The Dragon' and the 'Honky Tonk Afro Room'. So go knock yourself out.
Well, there you have it… we're pretty confident you now have everything you need for an absolutely belting Stag Weekend in London. Go forth and multiply, loyal Stags, and let us know how you get on. Of course, there's always the danger you'll get ripped off by cabbies, insulted by bouncers or kicked out of the pub for puking in the jukebox, but then that could just as easily happen in Las Vegas – and at least this way you're much less likely to wake up in the morning next to a toothless hag in a wedding dress with a suspiciously large Adam's Apple.