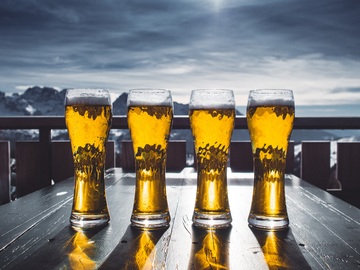 How many times have we all heard the "If your names not down you're not coming in" bouncer mantra?
Undoubtedly a few times, especially if you are part of a group of guys out on the town.
It's a well-known, slightly outdated, fact that groups of men together will often be denied access to nightclubs in any UK city. Therefore stag do nights out are often over before they've begun.
After having faced this conundrum on many occasion, popular Liverpool stag do accommodation Signature Living came up with one or two ingenious solutions.
Here's how they solved the mother of all stag do problems.
#1 Bring the night club to your hotel
Liverpool boasts some seriously epic nightlife but what to do when you are denied access to the best of them because you are a bloke?
Answer: bring the club to your room.
That's right Signature Living recognised a large number of their targeted guests were having difficulty enjoying Liverpool's famous nightlife due to the fact that they were in an all male group.
With this in mind they fashioned an apartment named The Vault. Sleeping up to 30 guests and equipped it with its own nightclub style sound system. The central area of the apartment has been fashioned around a nightclub dance floor and the best bit is the whole apartment is. As well as all that guests can also enjoy a photo booth area and a huge multiple person stone bath ideal for a pool partying.
Another added bonus is the drop down cinema screen projector hooked up to the latest gaming console.
Cue Fifa tournaments of epic proportions that stretch on into the night.
So forego those grumpy bouncers and enjoy a night in with the lads at The Vault.
#2 Book a booth
If you and the lads have chosen Liverpool to experience some of the UK's greatest nightlife, then plan ahead and ask your accommodation for some advice on the best hot spots in town.
Then it's just a matter of calling ahead and booking a booth. Believe me, no nightclub in any city would turn down a group looking to spend some hard-earned cash in their venue.
Another plus, when you have a booth it instantly screams "Hey ladies this is how we roll".
Having your own booth makes a statement that you guys are VIP's without you having to brag.
#3 Go in separates
This is the advice I used to give the guys who didn't really know where they were heading for the evening.
A group who were living on the edge, going where the wind took them.
This method is a little riskier than those previously discussed and requires military style planning.
There are a number of drawbacks though;
a) Some of your group may get in and some might not
b) You may lose sight of each other inside
c) None of you might get in and splitting up all night isn't really the aim of the game
Splitting up may seem like a gamble but as long as you get together inside you've fooled the powers that be and can get on with enjoying your night.
#4 Do your dress code research
The dress code lines for night clubs have relaxed a little overtime. There are however still places that will stick to strict outfit guidelines and the obvious remain steadfast no, no's in most venues.
• No trainers
• No ripped or torn jeans
• No baseball caps
• No tracksuits
• No hoodies
There are also the less obvious unspoken rules that bouncers use. Apparently short-sleeved shirts are common choices amongst rowdy lads. Shoes that aren't quite trainers but not shoes either suggest the same.
Don't worry guys as these unspoken rules exist for us girls as well and are stricter still. Skirts that are so short they don't start or alternatively are so long they don't seem to end. Even girls wearing trousers can be rejected for not being dressed sexy enough.
It's a bit of a minefield but if you do your research on the dress code rules you'll have a better chance of gaining access to where it is you want to go.
#5 Slow down the drinking
If you rock up to the club and can barely hold your own head up obviously you're not the ideal candidate to gain access to a place with yet more alcohol.
Same goes for any member of your group. On a past night out of my own a group of us, mixed sex, were consistently turned away from bar after bar. This is because we had one individual in our midst who was a little worse for wear.
Sad to say in the end we ditched him and from then on it was plain sailing.
We all know you want to show your stag a great time but that doesn't need to end with him being hoisted on your shoulders and carried home. Let him enjoy the night and remember it by pacing yourselves early on. Hopefully then you'll find yourself in a great club where you can finish up the night with your dignity intact.
Some of these tips may seem like common sense but others are a definite way of insuring you can stay in a group and enjoy a night out in Liverpool, or any other UK city for that matter.