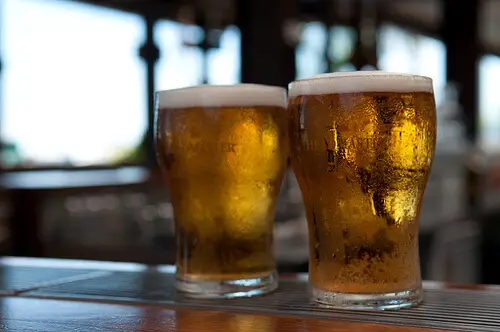 There are a number of ways in which a best man can justify the title of being an actual BEST man. You can come up with something truly wild and unheard of for the stag party, you can be there as the moral support for the groom or you can do something special when the wedding day comes.
However, if you really want to be the best man you can be, there is nothing quite like providing the stag do with the beer you brewed yourself. It shows that you care, that you really went out of your way and that you would do everything to make the stag party truly unique.
But how exactly are you supposed to do that without giving everyone food poisoning, especially if you are not really the most skilled and talented of guys?
Learn the Theory
You probably have more important and interesting things to do in your life than reading a bunch of books and other sources of information on brewing beer, but hey, you thought of it and you need to know as much as humanly possible before you start actually brewing that special stag-do batch.
The good news is that there is no shortage of info on brewing your own beer. It has become a worldwide phenomenon over these last few years and you will have no troubles finding everything on home beer brewing. The best thing is that you can find everything you need for free. There is really no need to go out and buy all kinds of expensive books on it.
Choose the Recipe
We all know that there are seemingly innumerable types of beer out there – from lager to dark beer to IPAs to bitter and more. As the best man, you will surely know what kind of beer the groom likes and what the party might enjoy. This should be your starting point when choosing a recipe.
Another thing to keep in mind here is that some types of beer are much more difficult to brew than others and that they might require some really fancy ingredients that you might not be able to get at your local beer shop. Of course, you can always go online for these, but it is best to keep things simple. After all, this is your first time.
Getting the Equipment and the Ingredients
The next step is getting everything that you need and this is where you might be surprised as to how little you will need to spend. For example, there is really not that much equipment that you will need. All you need is a brewing bucket (whose name tells you what it does, pretty much), the bubbler that will allow the gas to escape while the beer ferments and a hose that you will later use to fill the bottles or the glasses directly (our advice for the first brew). The important thing is that you purchase high quality brewing supplies.
When we are talking ingredients, you will also want to go for the best, even if it means ordering them online and waiting for some time for them to be delivered. If you are not sure that your local brewing shop has the best ingredients and the freshest, it is best to go with a bigger supplier who guarantees the quality.
Actual Brewing Process
This is where we will stop giving you practical advice because we do not feel skilled and experienced enough to actually tell you how to brew the beer. There are innumerable websites and other sources where you can learn this from people who have been brewing beer for decades and we would not dream of sharing our limited knowledge and expertise. Better to be safe than sorry, right? Our advice will be more metaphysical – be patient, take things slow and let the nature take its course.
Drinking the Beer
Once the stag do is on, you will be able to surprise the groom and the other members of the party with something truly unique – your own, specially brewed beer that is one of a kind and that no other stag party has ever had the opportunity to drink.
Of course, we would advise you to taste it before you let others drink it. You never know what you may have concocted.
All Images Courtesy of Flickr Creative Commons