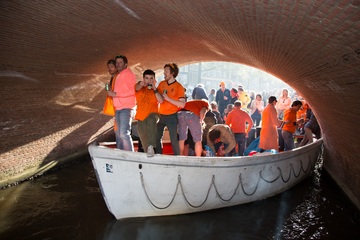 Everybody knows that the big day is all about the lady; the dress of her dreams, the perfect venue, the floral centrepieces to die for. But what, I hear you ask, about the groom? This stoic gentleman goes all out for the wedding, and really deserves the night of his life, right?
If you ask me, the stag is one of the most important aspects of the wedding, and of a man's life. So round up your geezers, don the flat caps and get down to London town for your best mate's last night of bachelorhood.
Activities
Clay Pigeon Shooting
What does a stag want to do on his last day of freedom? Why, shoot things of course! Gather your troupe, rifles in hand and get down to the grounds to get a few good shots in before lunch. Nothing says stag like flying projectiles and the smell of gunpowder!
Stag top tip – find clay pigeon shooting deals on Groupon, to save your group a few bob!
Stag Party boat
Nothing says stag like a booze-cruise down the river Thames to celebrate your best mate's forthcoming nuptials, and with a fully stocked bar, finger buffet and private DJ setting sail with you – you're in for a treat.
Whisky tasting
A special day deserves a very special experience, and what better than sampling a few of London's finest single malts and scotches with your very best pals. There is an abundance of whisky tasting experiences here to suit every budget, so you can stag in pure style!
Bars & Clubs
Windmill International
If you're looking for something to make the night feel that bit more special, look no further than The Windmill. Taking the title as London's most iconic gentleman's club, The Windmill features an exclusive atmosphere and beautiful live dancers every day of the week. They also offer a full bar and dining experience to make you feel right at home. They also cater to exclusive stag parties, so if you're looking to give your main stag the VIP treatment, a private dance from a Windmill girl is sure to knock his socks off!
I should note that The Windmill employs a strict smart casual dress code, so unless you've booked ahead, stick to shirts and shoes.
Octoberfest Pub
No stag is complete without a few flagons of the golden brew, and where better to commence the drinking than a pub where it's Oktoberfest all year round.
They have more than 60 German beers to choose from, along with a selection of Bavarian cuisine from the menu. If your stag group is feeling brave enough, why not try their double knuckle challenge – an eating challenge consisting of 2 slow roasted pork knuckles. If you finish, you'll win a stein glass and your picture on the wall of fame.
Restaurants
M Grill
If you and the entourage are sporting big appetites, there is no tastier place than M Grill. Catering fully to all meat hankerings, featuring melt-in-the-mouth dishes like the smoked wagyu tartare, braised prime rib or if you're feeling ultimately adventurous; the international steak board – weighing in at a whopper 1 kg. You want meat? You'll get it here!
And with two London locations – one on Threadneedle Street and the other on Victoria Street – just head to the closest grill!
The Cuban Bar
Not only does The Cuban offer mouth-watering, traditional Cuban cuisine and an extensive list of tapas, but live music, a fully stocked bar and over 150 different rums to choose from! If you want a bit of Caribbean flavour to your stag do, The Cuban Bar is the place to go.
Aside from the myriad rums on the menu, the Cuban also features an extensive Cuban cigar menu and a large smoking courtyard, so you and the boys can sit back and puff in style!
About the author
Ricky is a London local and two-time best man, writing about life and entertainment in the city. If you'd like to get hold of Ricky to write a guest post on London life you can get in touch with him here.