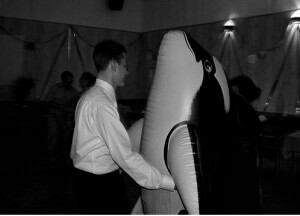 Being asked to be the best man for a groom is exciting and nerve wracking all at the same time. There's a lot of responsibility placed on your shoulders, yet you get the fun of organising the stag party. Still, you know that you are going to have at least a handful of 'judges' waiting to see what sort of event you organise, which means you want to come up with something with at least a modicum of originality.
Yes, you could opt for the usual 'alternatives' like go-karting or paintballing, but they're really only a few degrees short of doing the real traditional activities that involve strippers and copious amounts of alcohol. Here are some ideas that should inspire you to come up with something truly unique when you're a best man under pressure.
Find a Festival
Instead of trying to create a stag party out of nothing, think about the time of year the event will be taking place and look to see what is happening around the world. There's usually a festival of some description taking place somewhere, whether it's an art festival, a music festival, a beer festival, or something that combines all three.
If you're all sports fans you might even look for a sporting event to attend. Straight away you have your focal point of the party and then only have to worry about organising accommodation and knowing where the decent bars are.
Go Fishing
If you want to turn the stag party you're organising into a fishing trip then there are different options to choose from. The first is to find a remote spot where fishing is permitted or even a guest house with a private fishing lake. If none of the party is worried about the sea, then booking a fishing experience on a trawler is great fun, although if there are a lot of you it won't be practical.
There are many locations that offer fishing as part of a stag party experience, and you'll find you can organise everything at one place from your activities to evening fireworks celebrations; another top option if you want a stress-less stag organising experience!
Wine/Beer Tasting
This is a great idea for stag parties who want to enjoy a drink but aren't necessarily looking to have a wild time and get wasted within a few hours of meeting up. Note that this is something you should organise to take place a long way away from your home. Simply meeting up and popping into your local branch of whatever pub chain is popular around your way isn't acceptable.
Look at things like brewery or vineyard tours where you can even create your own drinks. Tours that are set up for stag parties and large groups will often include dinner and tickets to a show or into a club later on, so you should definitely give them some thought.
One More Stag Party Trip
Beware of booking trips where you get everything in one. Yes, we've suggested it here more than once, but make sure everyone is happy and you've checked out reviews (and visited, if possible) beforehand. The last thing you want to do is pay out and then decide two hours into a weekend that this wasn't a good idea!
Author Bio: Anthony Pillman has been the best man for three grooms and found it harder to come up with something unique each time, especially because all the three grooms knew each other! He's hoping he isn't asked again any time soon.