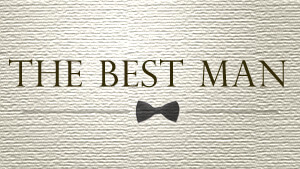 When Charlie asked me to be his best man, I was obviously delighted and a little bit surprised. We turned up to a music festival called Blissfields – a very small festival near Winchester. I was there with my wife, and there were two other couples. Charlie and his fiancee, and another couple we know really well. We were there really just to enjoy the music and have some fun away from the children (grandparents are a fantastic invention!).

Charlie turned up a bit later after we'd pitched tents, so I walked back  to his car and brought some of his kit back. On the way back to the tents, we were obviously all very excited about the music festival and talking about what was planned. Then, all of a sudden he proclaimed that he needed a stag do organising and did I want to be his best man. Obviously, I was delighted and a little surprised caught slightly off guard.For one thing, I'd known Charlie for a long time. We are all approaching 40 or have hit it, so we don't see as much of each other as we used to. Normally the more you see of friends you  maybe consider them better friends, but I suppose by the time you hit your fifth (gulp!) decade, you know who your closest mates are. I was delighted he considered me one of his, but also that he entrusted me with organising his stag do.
That obviously throws up other things. As best man, you really have two main best man duties in my humble opinion:
to organise a stinker of a stag do that no-one will ever forget, and
deliver a cracking speech at the wedding.
Oh yeah, and make sure the ring is all there and all that stuff. But for me, those are the two main responsibilities and they need to be taken seriously. For one, I suppose there's a certain amount of kudos attached to delivering a fantastic stag do as best man. so the stag do is the first and foremost – duty as best man to get right. If you organise a cracking stag do it actually generates material naturally for the speech.
So at that point, once Charlie had asked me to be best man, I started mulling things over, in-between the music and the beers and the bands over the weekend at the music festival. I really didn't know what to do next. so it came down to the basics, one step at a time.
I arranged with Charlie that we met up so we could sort out basic things like who he wanted to invite. Once I had a list of who he wanted to invite to his stag do then we could start sorting it out. Also, what he wanted to do was important to get from the start. Some people take a view that it's not just down to the stag where and what you do, but I think it should start there and then open it up to the whole stag group. It is the stag's last night of freedom at the end of the day, so it should be down to him where he wants to do it. So we met up in Northcote Road near Clapham Junction, went for a beer and burger and just talked about things. That started the process of organising Charlie's stag do.
This will be a series of posts which will hopefully result with a  post-mortem of what a fantastic stag do it was – no photos allowed mind!
If you've been in a similar situation as best man, please comment below with your experiences  – pearls of wisdom and pitfalls to avoid  especially.